Do bi-fold doors add value to a home? If you've been thinking about getting some new doors, then you might be considering designs that aren't the typical narrow door. Bi-fold doors, along with French and sliding patio doors, are designs that can open up your living space to nature, let light into any room and make entering your garden so much easier. Because of this, a fully glazed set of doors can transform the way your home looks and feels.
Bi-fold doors, in particular, add value to a home. It's because bi-fold doors have a highly sophisticated design, with a unique folding mechanism that allows multiple panels of glass to stack up in the corner of the room. As a result, your doors will disappear when you open them fully, revealing a wide-open entrance to any living space. Even when you close them, though, the combination of advanced double glazing panels and robust aluminium profiles makes these doors strong, secure, thermally efficient and durable for your home.
At Jewel, we install bi-fold doors that can enhance any home in Hampshire and Surrey, adding value to a home for years to come. You'll be able to design customisable bifold doors as well, and we have a range of colours, finishes, hardware and accessories to choose to create your dream design. From there, our trusted local installers will fit the doors you create made-to-measure, and we can offer shorter lead times and more competitive prices as a local company in your area. Because of this, you can trust Jewel to install bi-fold doors that add value to a home, and you can improve your home's value straight away.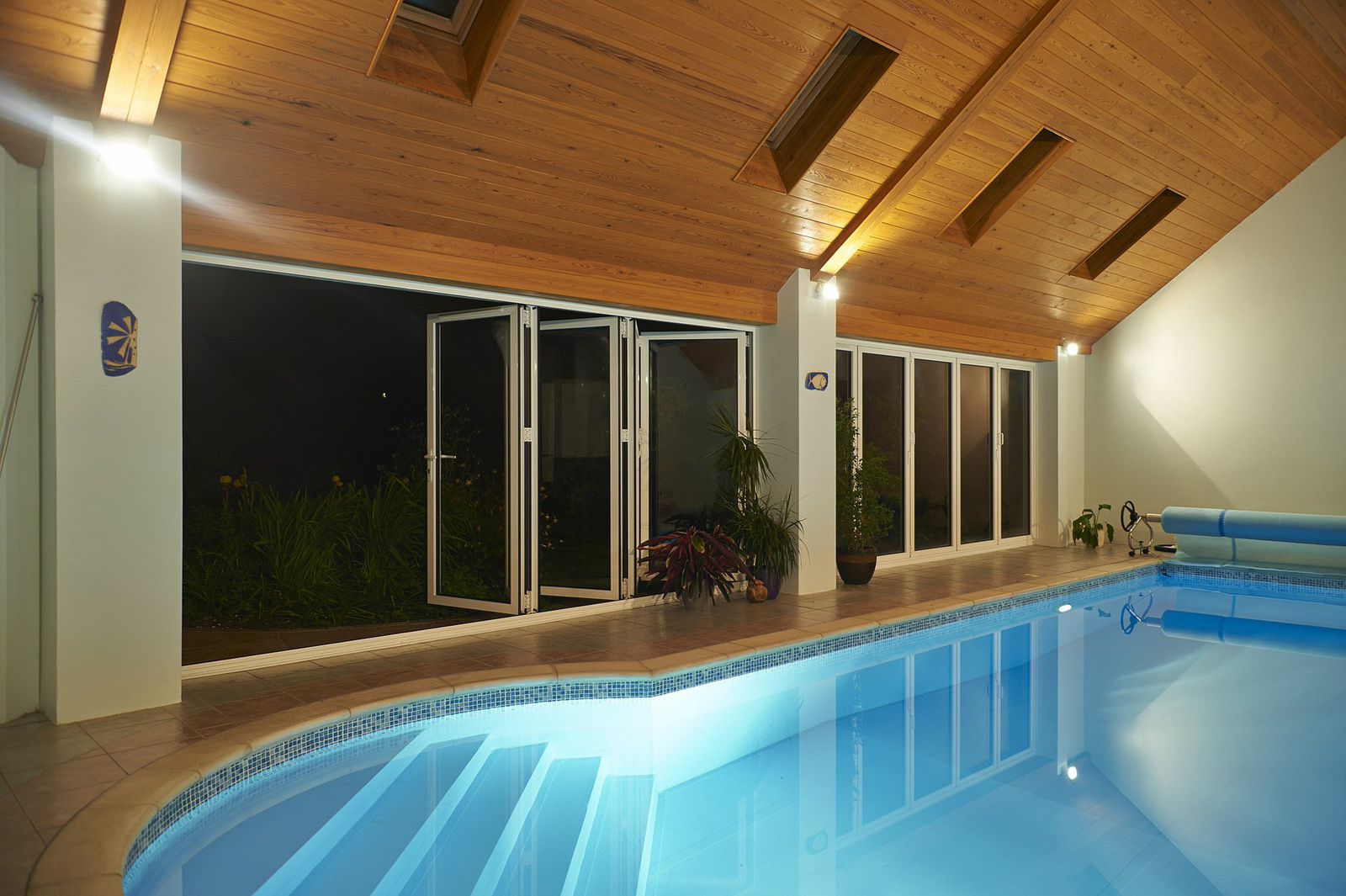 Efficient Bi-Fold Doors
So, how do bi-fold doors add value to a home? One of the main ways bi-fold doors add value is by saving you money on your home's energy bills. In your living space at the moment, you may have an old wooden back door that is beginning to look old-fashioned and worn down. Because wooden frames aren't weatherproof, their insulation often becomes less and less effective over time, meaning that more cold air enters your home from outside and more warm air escapes the inside of your property.
However, Jewel only installs bi-fold doors that are thermally efficient for your home. We can fit our doors with both aluminium and uPVC profiles which offer impressive insulation, and our doors feature double glazing to create a durable thermal barrier for your living space. As a result, you'll be able to use your home without relying on your central heating to stay comfortable, meaning you can save money on your energy bills and reduce your carbon footprint. Our bi-fold doors, then, can add tangible value to a home every single day.
Durable Bi-Fold Doors
Another reason bi-fold doors add value to a home is because they last for much longer than other entrances. Rather than keep a wooden door which can wear down after only a few short years, our aluminium doors are able to perform for up to half a century. It's because we install doors which are fully weatherproof for your home, meaning wind and rain won't cause any visible damage to your doors for years to come. You can be sure that the hardware won't wear down, the colours won't fade, and that you won't need to carry out regular maintenance.
Both aluminium and uPVC bi-fold doors can continue to add value to a home long after you install them. Your doors will maintain their looks, and you won't have to put any extra effort in to keep your doors looking their best. Our high-quality aluminium and uPVC bi-fold doors don't need repainting or revarnishing as wooden doors do, and you can make them last for decades without any need for costly repairs. Because of this, you'll find that your home stays valuable long into the future, meaning you could benefit from these doors for decades to come.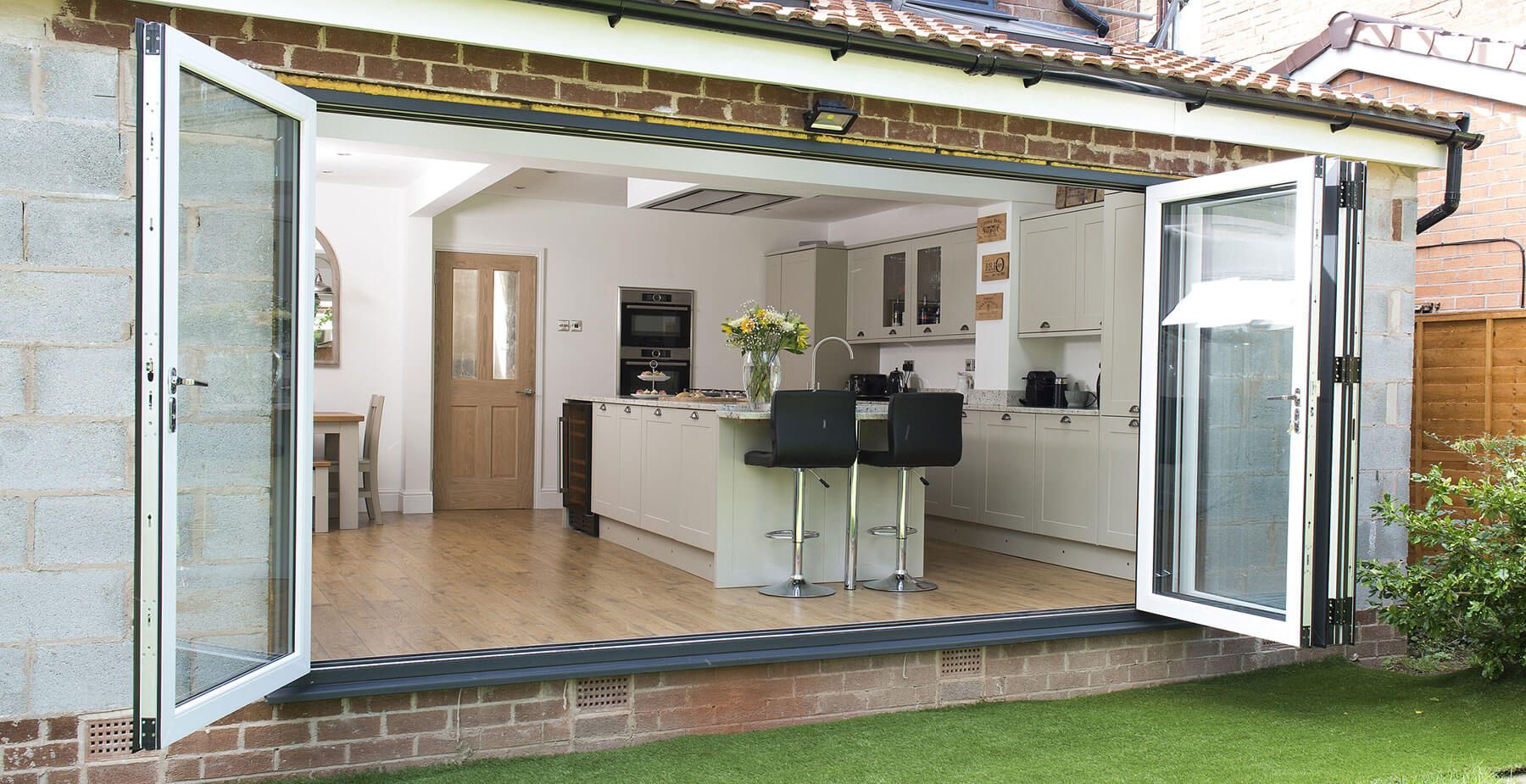 Stylish Bi-Fold Doors
Finally, bi-fold doors are a stylish addition that can add value to a home with their aesthetic quality. Bi-fold doors have a sleek, smooth design, with each panel of glass folding neatly above itself to give the doors a timeless feel. You can also create a stunning design for your bi-fold doors with the help of Jewel's customisable options, meaning you can create a set of doors that stands out on any street. You can choose unique colours, finishes and hardware options with confidence knowing that they won't fade, wear down or fall into disrepair for several years.
As a result, bi-fold doors are one of the most sought after home improvement products for new buyers. You'll find that your doors will be a key reason why buyers might consider choosing your home if you decide you want to sell and move into another one. Because of this, the kerb appeal of your home will be a lot higher, meaning you can expect to field more frequent and more valuable offers to take your property off your hands. Because of this, you'll be able to benefit from installing bi-fold doors in your current home, even when you move into a new one!
Jewel Bi-Fold Doors Prices
With Jewel, you can install bi-fold doors that add value to any home. And, with our competitive prices, short lead times and personalised service, you'll find value in installing them with us, too. We only fit bi-fold doors with market-leading aluminium and uPVC profiles, advanced double glazing and high-quality hardware, including secure multi-point locking mechanisms and accessible low threshold options. And, with our bespoke designs, you'll benefit from a made-to-measure installation that's always a perfect fit for your living space.
If you'd like to design your dream bi-fold doors, use our online quote builder today to start the process. And, if you want to find out more about how our bi-fold doors add value to a home, you can get in touch with our friendly team via our online contact form or by calling 01252 933 134 today. We look forward to hearing from you!