Can bifold doors go around corners? If you have a living room with a large garden around it or want to open up your home to more natural light, then bifold doors are a great option. These designs have multiple panels of double glazing, meaning they're expansive and that natural light can flow through the doors into your home. While most bifold doors only take up one wall of your home, they could take up more space.
It's because corner bifold doors are possible for your home. Bifold doors can go around corners, meaning they take up two walls of your home and turn an entire corner of your property into a stunning door. When the doors are closed, slimline profiles and large glazing panels allow you to get panoramic views of the world around you. And, when you open the doors, they'll seamlessly connect your living space with the outdoors.
The bifold doors that can go around corners are usually external, but internal doors are also possible. And, with Jewel, you can create bespoke bifold doors to suit any of your needs. Bifold doors that can go around corners can make your home feel more spacious, brighter and even warmer and more secure. And, with our high-quality doors from leading suppliers Air, Schuco and Smart, we install bifold doors that don't cut corners in any aspect of the design.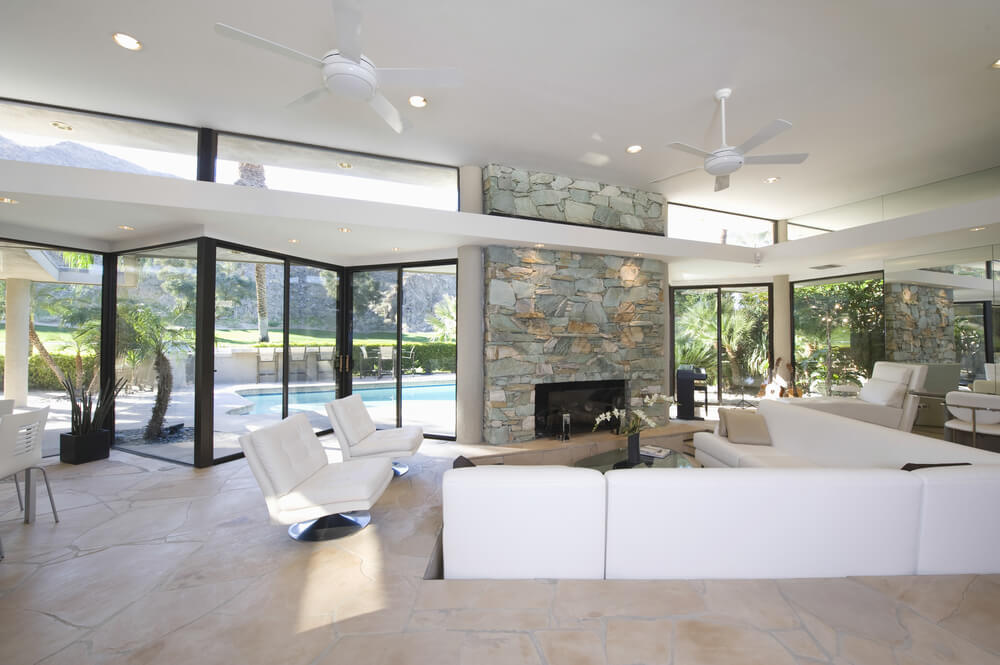 How Do Bifold Doors Go Around Corners?
Bifold doors have a flexible design which allows them to go around corners. Unlike most doors, which have a swing arc, bifold doors use an in-line slider. Because of this, you can pull the doors along their tracks to open them, meaning they don't swing outward and cut any space in your living area off. However, that also means you can fold the panels as much or as little as you'd like, meaning you can open them in almost any way.
As a result, bifold doors can expand across a large space. And, with some designs, you can fold the whole system itself to fit on the corner of your living space. Corner bifold doors work as one system – you can fold the panels from the corners into both sides of the door, meaning they stack neatly away on both ends. From there, you'll turn a corner of your room into a wide-open entrance to your garden.
Bifold doors also have the smooth operation and durable design required to go around corners. Because our bifold doors have innovative components, they can operate smoothly for decades to come. Not only that, our designs use weatherproof aluminium and uPVC profiles, meaning the frames won't warp, crack or twist and they'll protect the internal hardware from rust and wear. With these durable doors, you can make them go around corners for decades to come.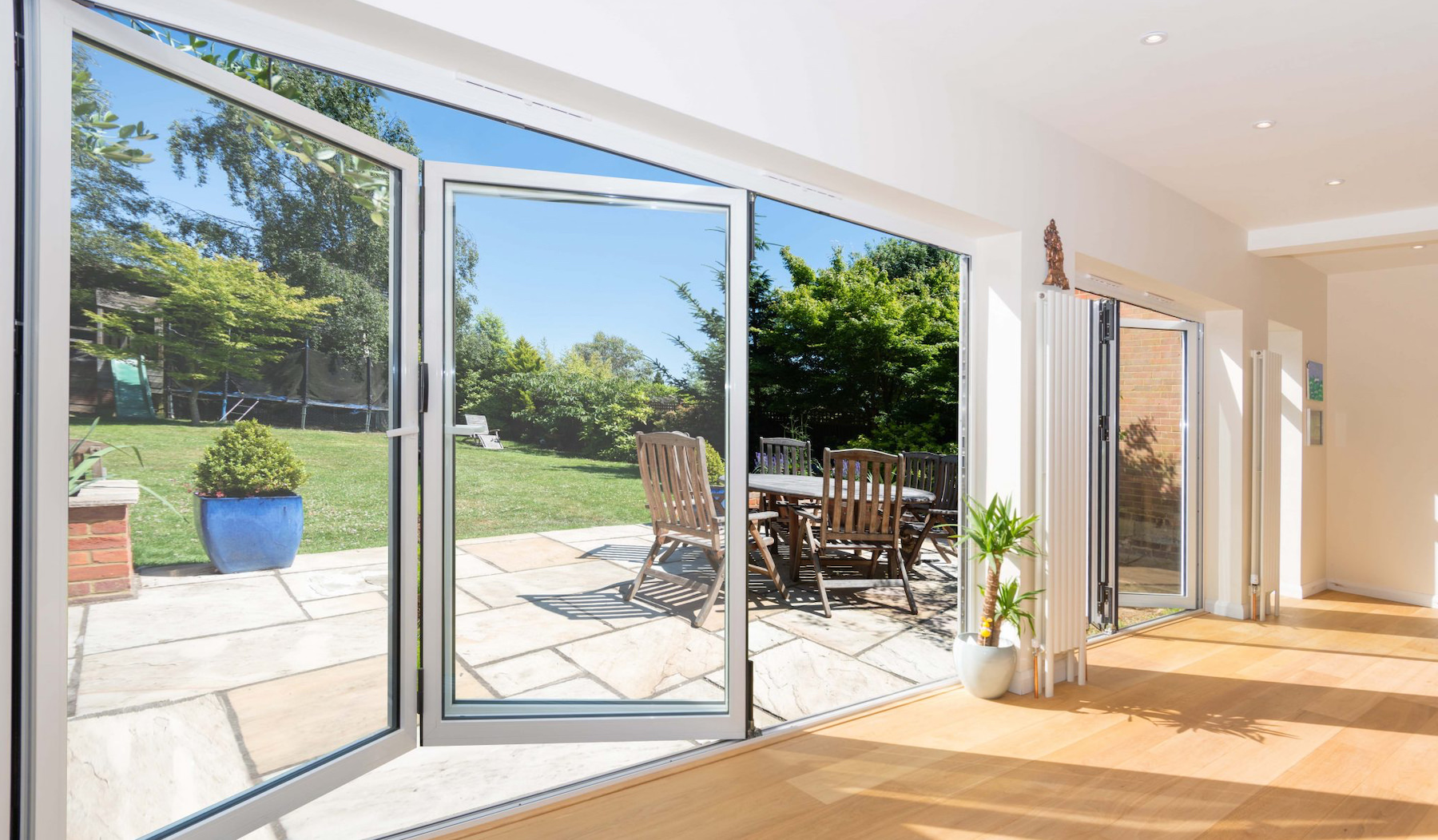 The Benefits of Corner Bifold Doors
By installing corner bifold doors in your home, you can change how you use your living space. By replacing two walls of your living space with these doors, you can get an even wider, more expansive entrance. Because of this, you and your family can enjoy your garden with ease, and you'll feel the benefits of the outside world even when you stay indoors. The slimline profiles in our corner bifold doors allow natural light to flow throughout your living area.
However, corner bifold doors can also protect you when nature isn't as friendly. In windy and wet conditions, you can rely on these doors to keep your home warm and dry. We only install uPVC and aluminium bifold doors that are fully weatherproof, meaning no part of the design will allow cold air or water to enter your living space. Not only that, your doors won't lose their shape or their strength, and they'll still look as good as the day they were installed for years to come.
Finally, you may think corner bifold doors don't insulate your home quite as well as your walls can. However, we use advanced double glazing and robust profiles to ensure cold air has even less chance of affecting you inside your home. Our doors create a thermal barrier for your property, keeping you warm no matter the time of year. That way, you can reduce your reliance on your central heating, saving you money on your energy bills and cutting down your carbon footprint.
Can Jewel Bifold Doors Go Around Corners?
If you want bifold doors that can go around corners, you can speak to Jewel today. We're a trusted local installer of bifold doors in Surrey and Hampshire, and we're delighted to work with our customers to create bespoke solutions for any home. As a result, you can contact our team today to discuss installing corner bifold doors. Our expert installers will be able to talk through the design with you and work out whether they might be right for your property.
Thanks to our partnerships with Air, Schuco and Smart, you can trust Jewel to install doors of the highest quality. And, by working locally, we can offer fast lead times and more competitive prices, with fewer travel costs for you to pay. Additionally, our installers pride themselves on providing a friendly, courteous service. They'll treat your home as they would their own and fit your corner bifold doors made-to-measure, meaning you get a bespoke installation every time.
Corner Bifold Doors Prices
Don't cut corners if you want to install corner bifold doors in your home – speak to the experts at Jewel Bifolds today!
You can use our online quoting engine to design unique bifold doors and get a free price estimate in minutes. Alternatively, why not use our online contact page to leave our team a message to discuss your ideas with you?
We look forward to helping you install bifold doors that go around corners at Jewel.