Find out how to customise bifold doors with Jewel Bifolds today! With our range of market-leading bifold doors, we aim to give you the chance to design doors that are like no other. We know every home and homeowner is different and wants something unique from their new installation. That's why, when you choose one of the bifold doors in our range, you can customise it to suit you with a range of options.
There are several ways to customise our bifold doors to make them a perfect fit for your home. You could choose from one of the three leading manufacturers we work with – Air, Schuco and Smart. You could also pick the ideal configuration for your doors, with the right folding direction, opening direction, the number of panels and height and width. Finally, you can pick accessories for your bifold doors, such as unique colours, authentic woodgrain finishes, or even low threshold options!
No matter how you want to customise your bifold doors, we'll be on hand to help. Our local installers will take your custom design and fit it made-to-measure according to your precise specifications. That way, we'll ensure that your bespoke bifold doors are always a perfect fit. To start working out how to customise your bifold doors to suit your home, why not start an online quote and look at your options?
How To Customise Bifold Doors: Manufacturer
We help you find out how to customise bifold doors by offering designs from several manufacturers. Because of this, you get more choice for the bifold doors you end up installing. We work closely with three manufacturers at Jewel Bifolds to make sure you can pick a design that works for you. Our partnerships with Air, Schuco and Smart allow us to offer aluminium bifold doors with market-leading profiles, meaning these doors are stronger, more secure and can save you more money on energy bills than the competition.
Air bifold doors are slimline designs, with sightlines of 108mm and a height of 3m to allow more natural light into your home. Schuco bifold doors are a secure design featuring advanced locking systems specifically designed to keep burglars and intruders away from your home. And, with Smart bifold doors, you'll get an efficient design with thermally broken aluminium profiles that retain more heat inside your home and keep cold air out in the cold winter months. That way, customising your bifold doors choice can help you save money over time.
How To Customise Bifold Doors: Configuration
From there, you can begin to customise how your bifold doors will fit inside your home. That's because you can also choose from several configuration options to make sure you get a perfect fit. At Jewel Bifolds, we can offer our bifold doors with between 2 and 7 panels of double glazing. With more panels, the doors are wider and more expansive, and you can fold each panel as much as you need to give you a more flexible opening system.
However, there's so much more you can do when it comes to how to customise your bifold doors to suit you. You can choose the folding direction of your doors, meaning you can pick internal and external folding depending on your needs. And, with a range of panel sizes to choose from, you can ensure our bifold doors are a perfect fit for your living space. With a range of options on offer, there's no limit to how unique your brand-new bifold doors can be.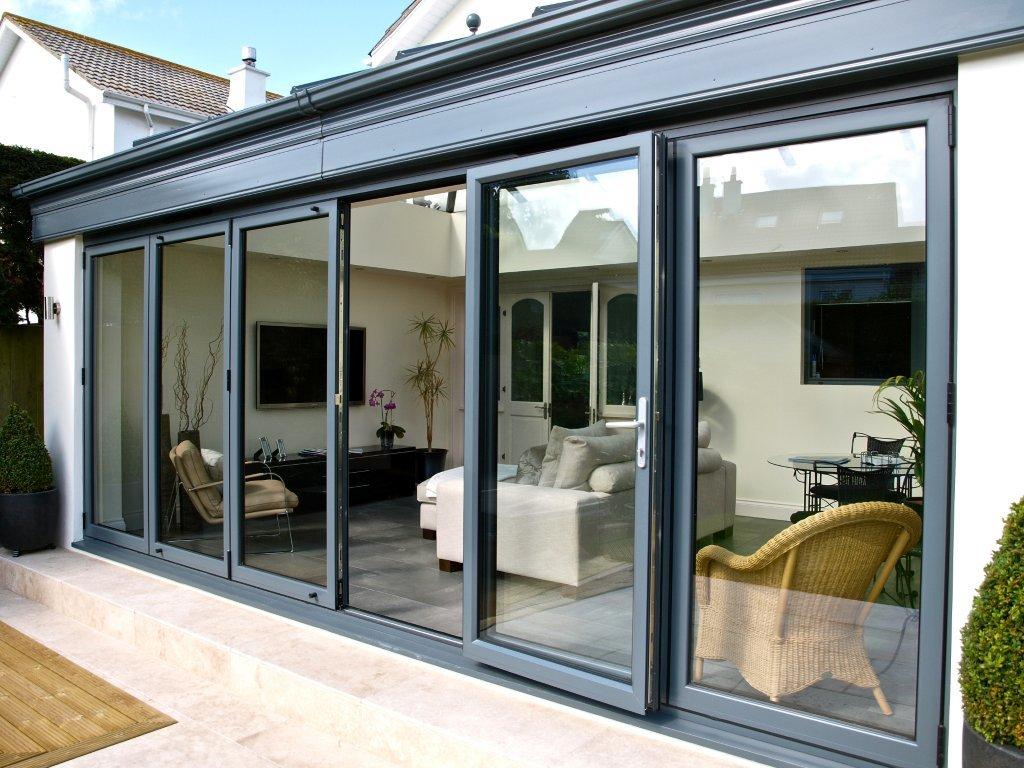 How To Customise Bifold Doors: Design
Once you have the configuration of your bifold doors, you can work out how to customise your bifold doors even further. That's because, at Jewel, we offer a range of colours, hardware and accessories to personalise your bifold doors. You can choose from a wide range of bold RAL colours that won't fade for decades to come. And, if you'd rather create a more traditional design, you could use one of our woodgrain foils to add a sense of class to your living space.
We can also help you work out how to customise your bifold doors for wheelchair and pushchair users. If accessibility is a concern, we can fit low thresholds to your bifold doors to help them enter and exit your home easily. You can also choose double or triple glazing, additional security hardware, and even small details such as handles. As a result, working out how to customise your bifold doors with Jewel can help you create a design like no other.
How To Customise Bifold Doors For Less
If you want to work out how to customise your bifold doors, Jewel can help today. We offer a wide range of bifold doors that are fully customisable for your home, meaning you can make them bespoke to your property. Our team will take you through our options and help you craft the design, meaning you get doors as unique as you are. From there, our trusted local installers will get to your home quickly, providing a made-to-measure installation at an affordable price.
Find out how to customise bifold doors for your home with us today! You can use our online contact form to discuss your ideas or give us a call on 01252 933 134 to speak to us directly. And, to start designing your bespoke bifold doors, you can use our online quoting engine. It takes just minutes to create your unique design and get a personalised price estimate.