Why are bifold doors great for kitchens? Bifold doors can elevate the look of any kitchen, but they can also make them warmer, brighter and more accessible. At the moment, your kitchen may feel separated from the rest of your home. Not only might it be separate from your dining area, but it may also only have narrow windows to allow warm natural light inside your living space.
While some people build a kitchen-diner extension or break a wall down in their home though, you could make your kitchen feel more connected to your home for less. Bifold doors work well both as a partition between two spaces and a doorway to the outside world. Bifold doors have full panels of double glazing and a unique folding design, operated by an in-line slider. As a result, these doors open seamlessly and brighten up any home.
Bifold doors for kitchens, then, are a great investment. And, with Jewel, you can get bifold doors for kitchens at competitive prices from a trusted local installer. We install premium aluminium bifold doors for kitchens from three market-leading companies and install them carefully for your home. Because of this, you'll make a superb choice for your home when you install our bifold doors for kitchens.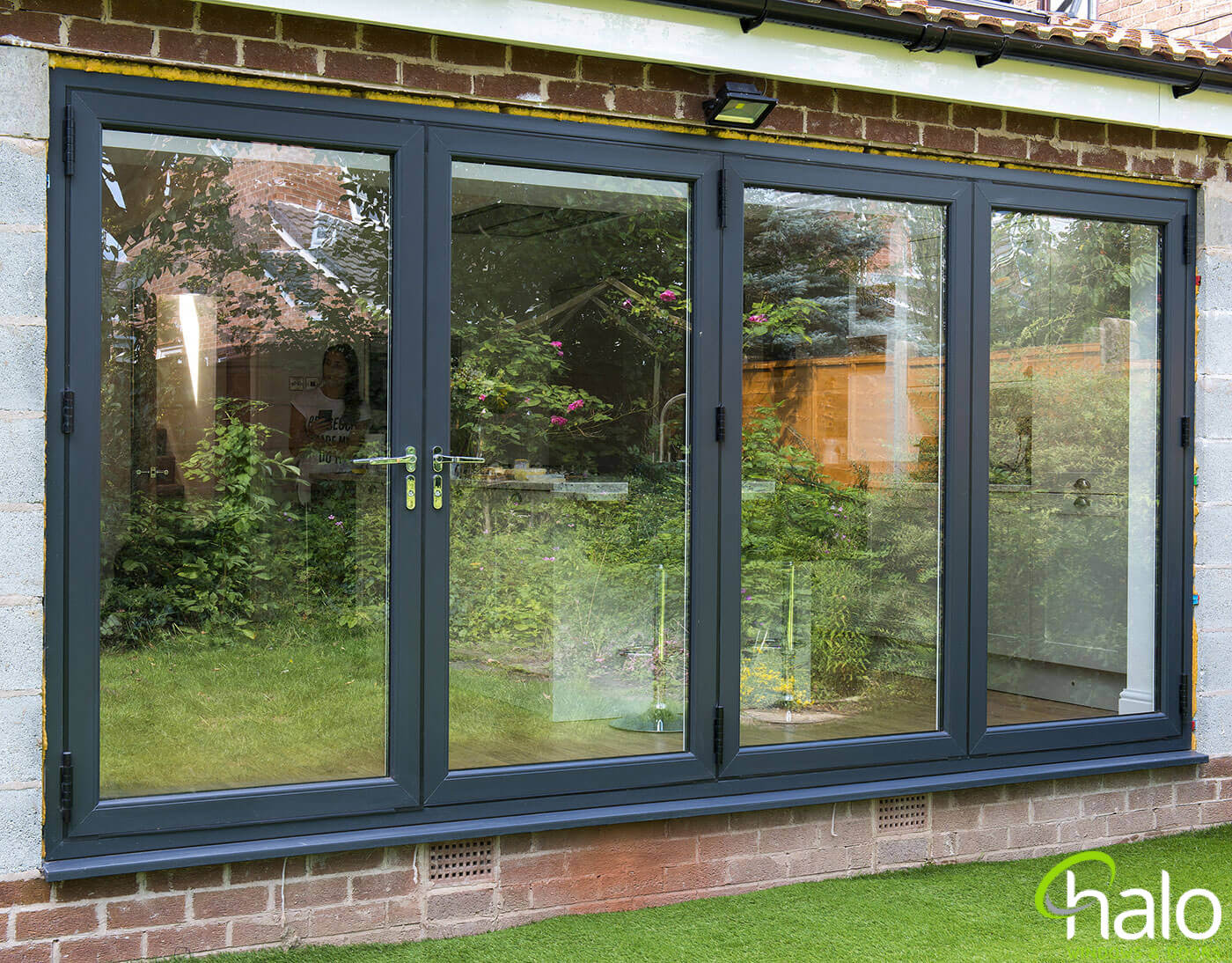 Efficient Bifold Doors for Kitchens
So, why are bifold doors so great for kitchens? Firstly, they can make sure your kitchen stays warm and comfortable no matter the time of year. At the moment, your kitchen may have poor insulation, perhaps because of an old property or old windows that are wearing down. With bifold doors, though, you'll open your home up to nature without exposing it to the cold.
Bifold doors have advanced double glazing panels, which create a thermal barrier for kitchens, trapping heat inside and keeping cold air outside. Not only that, the aluminium profiles are air and water-tight, ensuring no gaps will emerge for cold air to get in. As a result, our aluminium bifold doors for kitchens have impressive insulation and exceptional U-values. You'll be able to save money on energy bills, too!
Secure Bifold Doors for Kitchens
Another benefit of installing bifold doors for kitchens is peace of mind. If you value your kitchen, installing these doors can make what matters to you more secure and more protected. It's because bifold doors are packed full of advanced security systems to keep you safe from burglars and intruders. And, with aluminium profiles, our bifold doors are even stronger for kitchens.
Aluminium is a precious metal, meaning it's impact-resistant and helps to protect the security features inside your door. Features will include multi-point locking mechanisms that engage across the frame's perimeter and shootbolts that lock the doors in place. With toughened glazing as standard, these doors are designed to keep who you don't want in your home out for good.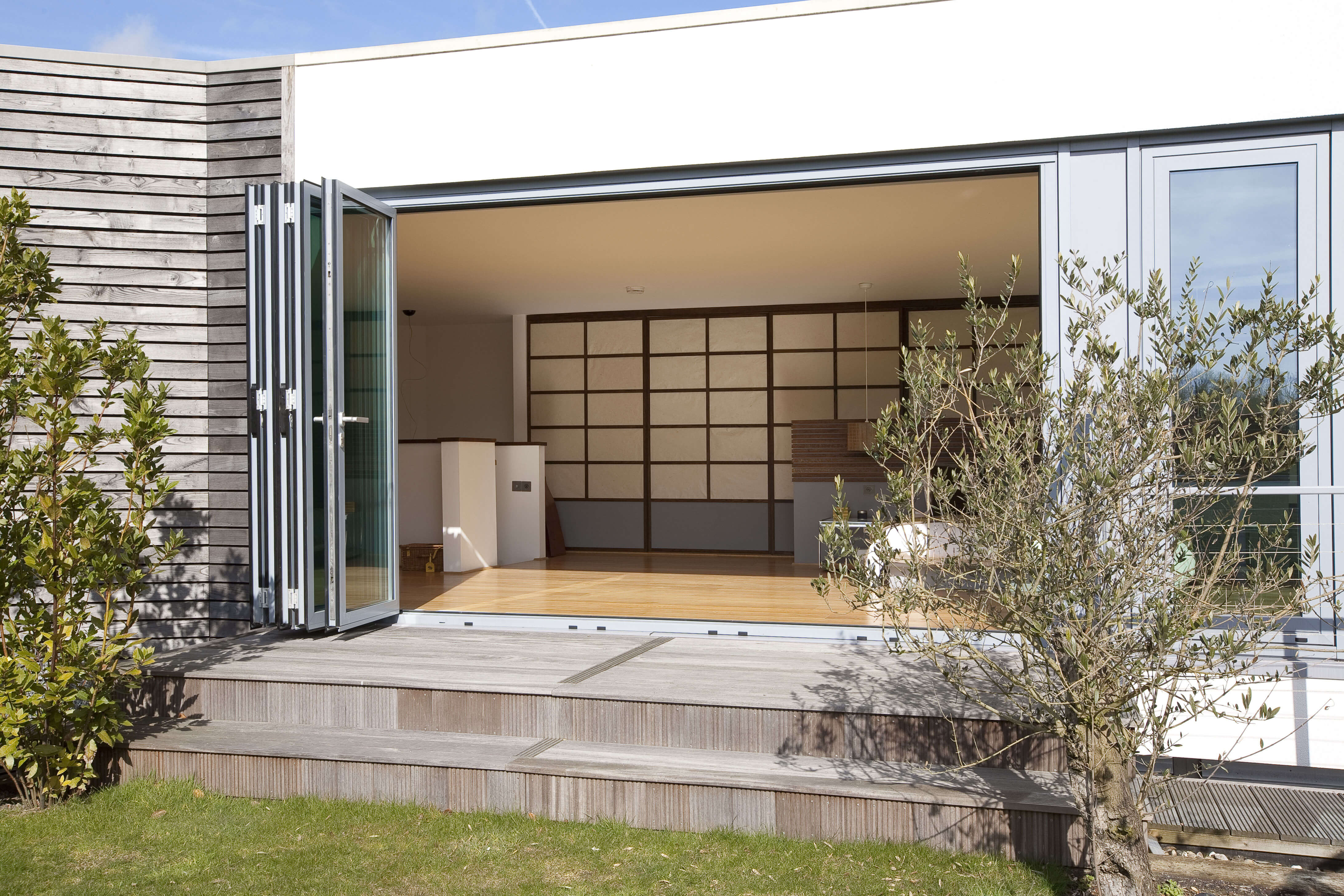 Accessible Bifold Doors for Kitchens
Finally, bifold doors are so great for kitchens because of how you can use them. Bifold doors are a flexible, versatile design, which can work in several ways depending on what you need for your home. For example, you could turn a wall of your home into a partition, with bifold doors that fold away easily to connect your kitchen with a dining area.
Alternatively, these doors could open out to your garden. When you open the doors, they operate smoothly and seamlessly, with all the panels neatly stacking in the corner of the room. Because of this, you get a wide-open entrance to the world around you. Not only that, you can fit all of Jewel's aluminium bifold doors for kitchens with low-threshold options. Options like these reduce the doors' clearance, making them accessible for wheelchair and pushchair users!
Bifold Doors for Kitchens from Jewel
Bifold doors for kitchens are even better with Jewel Bifolds. As a trusted local installer, we've spent decades refining our installations and our range. By working with market-leading companies Air, Schueco and Smart, we can offer the best bifold doors on the market for kitchens today. And, with our dedicated installers, you can fit them in your home with ease.
We'll be able to reach your home quickly, working with fast lead times, and we'll treat it with care and courtesy. We'll even personalise our service to you, and all of our bifold doors are fully customisable for kitchens, living rooms, conservatories and more! Finally, we can offer our bifold doors for kitchens at lower prices than national installers. As a result, you could save on your new home improvement with us.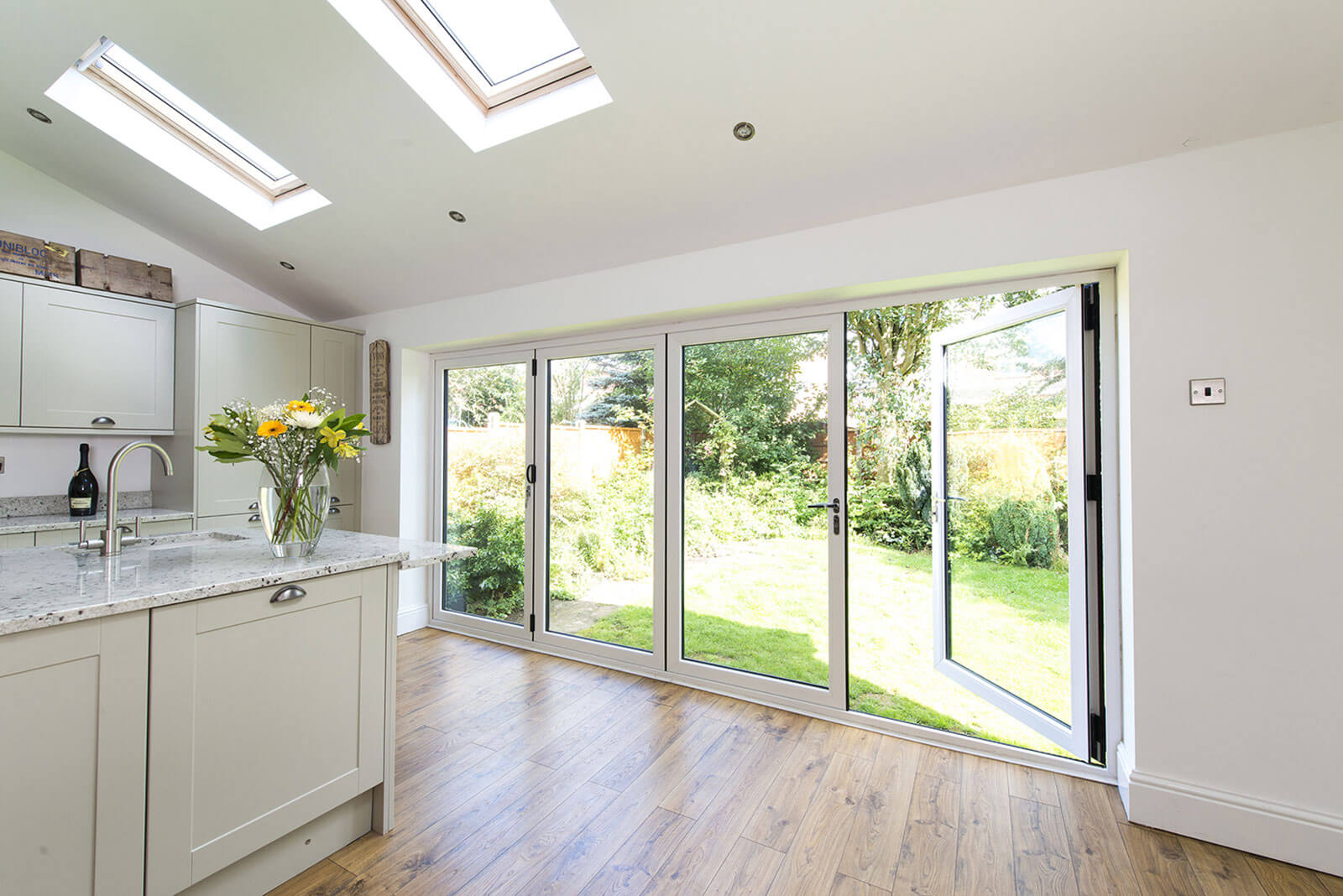 Bifold Doors for Kitchens Prices
If you'd like to see how much you could save on bifold doors for kitchens in your home, get in touch with Jewel today!
You could design bespoke bifold doors for kitchens and get a free online quote in minutes when you use our online designer tool.
And, if you'd like to speak to our team, you can always give us a call about anything on 01252 933 134.