Contemporary Concertina Doors in Surrey
Concertina doors offer the most incredible visual impact for your Surrey home. They not only offer a stunning opening to your garden though, they are also superb for easy access and high performance too.
Jewel Bi-Folds are concertina door specialists in Surrey. This means that not only will you get an expert concertina door installation, but also a variety of bi-fold doors to choose from to make your new entrance the perfect match for your home.
Concertina doors are a great home improvement, and becoming more and more popular in Surrey. Read on to find out more about these spectacular sliding doors and how they could benefit your home.
Impressive Choice
Every Surrey home is different, and every homeowner is looking for different features and benefits from their home improvements. This is why, when you are looking for concertina doors, coming to Jewel Bi-Folds is the best possible place to start.
Our range of concertina doors is extensive. Whichever bi-fold door you choose, you are guaranteed certain benefits, but each option offers its own features and slight differences to enhance your home.
They are all fantastically energy efficient and highly secure, and each one can be tailored to suit you with colour finishes and configuration options as well as hardware and accessories.
We work with several manufacturers to ensure that you get a variety of concertina door options in Surrey.
Take a look at our overview of each manufacturer and find your perfect concertina door.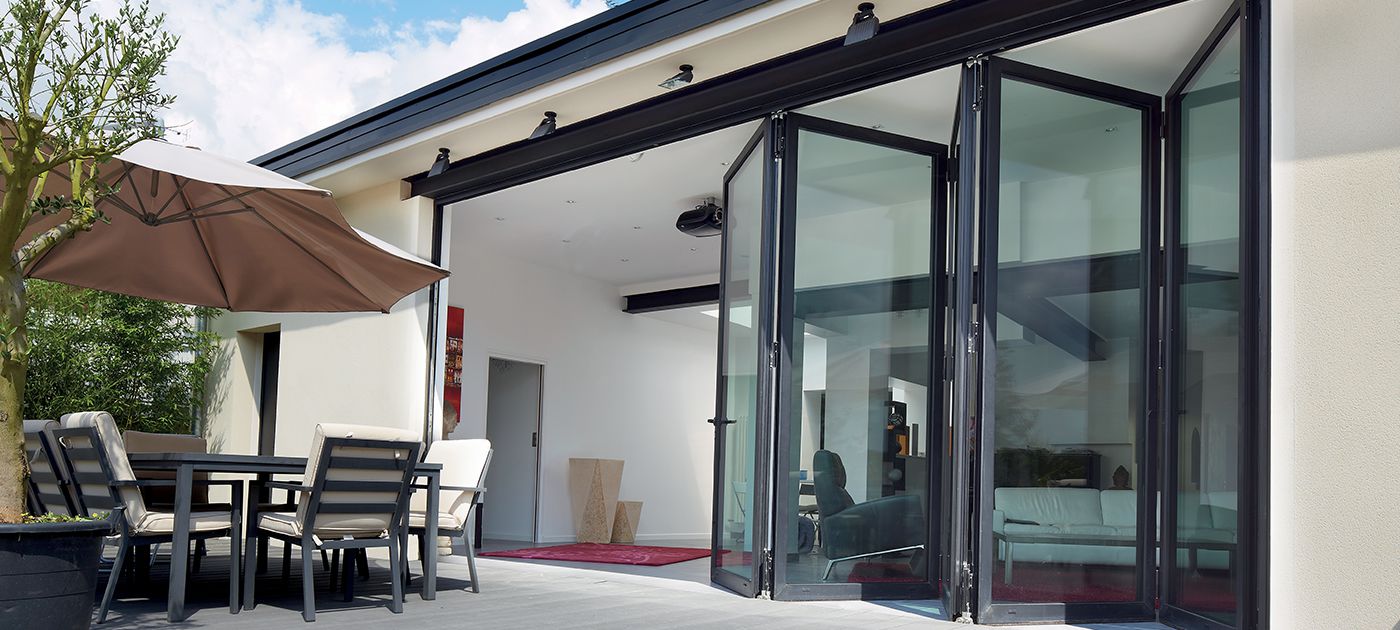 Our aluminium bi-fold doors all share certain common benefits for your Surrey home.
Each concertina door offers superb thermal performance, they are all innovatively constructed to achieve a variety of low U values. Whether you choose a premium aluminium concertina door, or a standard option, you will benefit from energy efficiency that matches that of uPVC, if not surpasses it!
Aluminium as a material is inherently strong, this enables our concertina doors to offer slimline profiles, enhancing their beauty. On top of this, it has the function of making them virtually unbreakable. Your home will be protected against intruders with our aluminium doors.
Every concertina door is fitted with great, high security locking systems. Some options also include shootbolts and other quality security features to maximise their security performance. In fact, many of our concertina doors are designed with home protection in mind.
Aluminium concertina doors are also the perfect choice for when you want completely tailored double glazing. They are all available in a vast range of colour finishes, so that you can find the perfect match to complement your Surrey home.
Take a look at the aluminium concertina doors we offer in more detail:
Air concertina doors have super slim profiles and a height of up to 3m, giving you the most amazing views.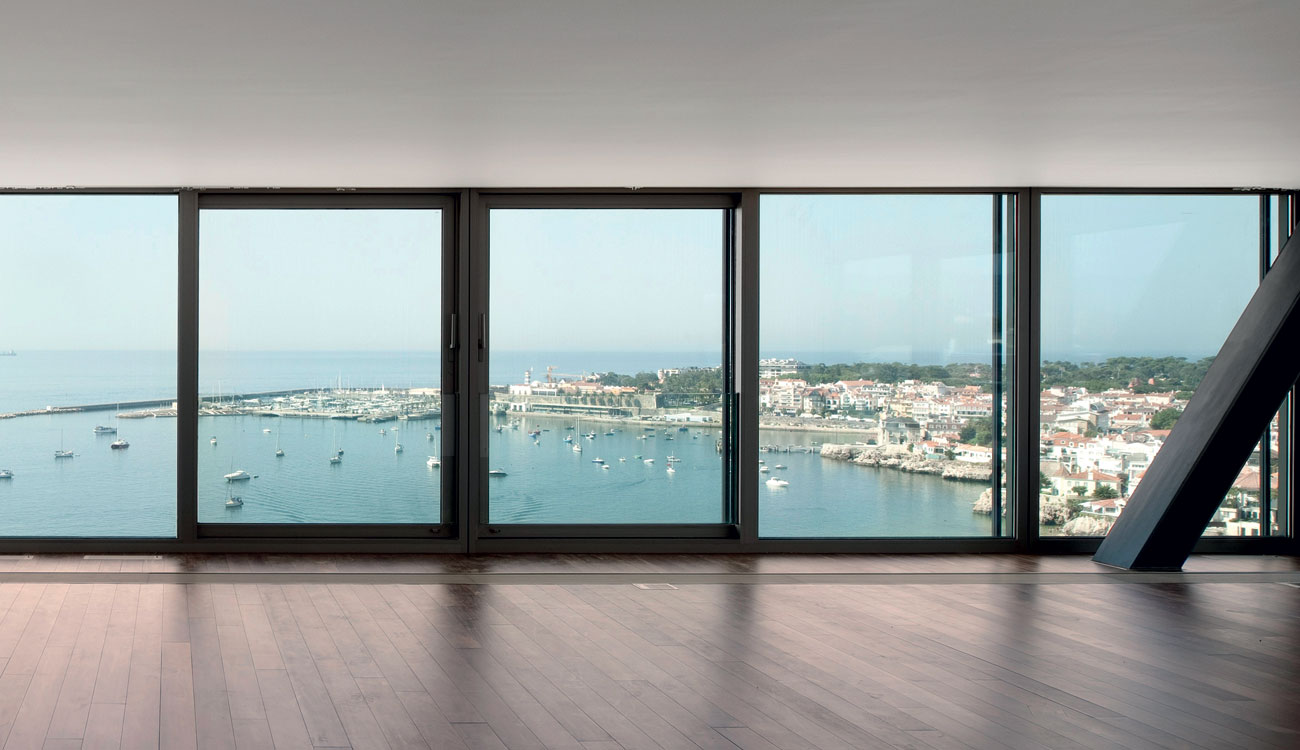 Home protection is at the forefront of the Schuco design, with impressive specifically designed high security locks as part of their security features.
For an all round performance, Reynaers concertina doors are a great choice for your Surrey home improvements.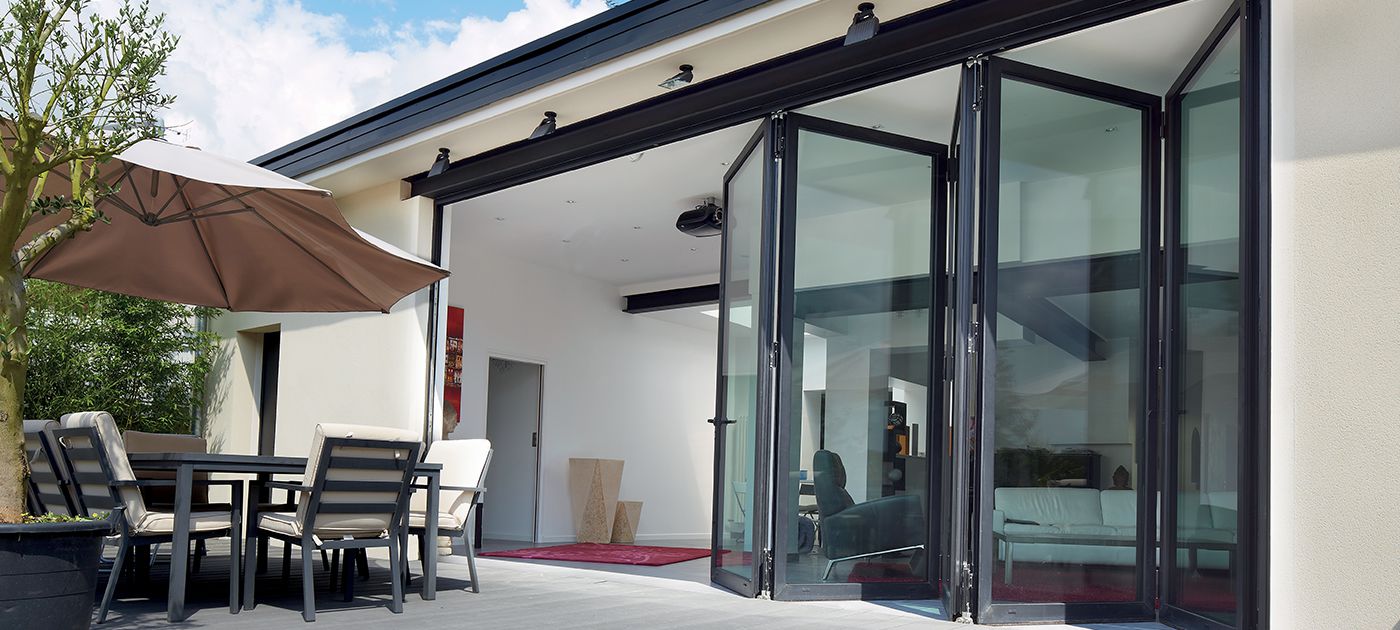 Every detail is considered in the design of Smarts concertina doors, giving a stylish and streamlined finish.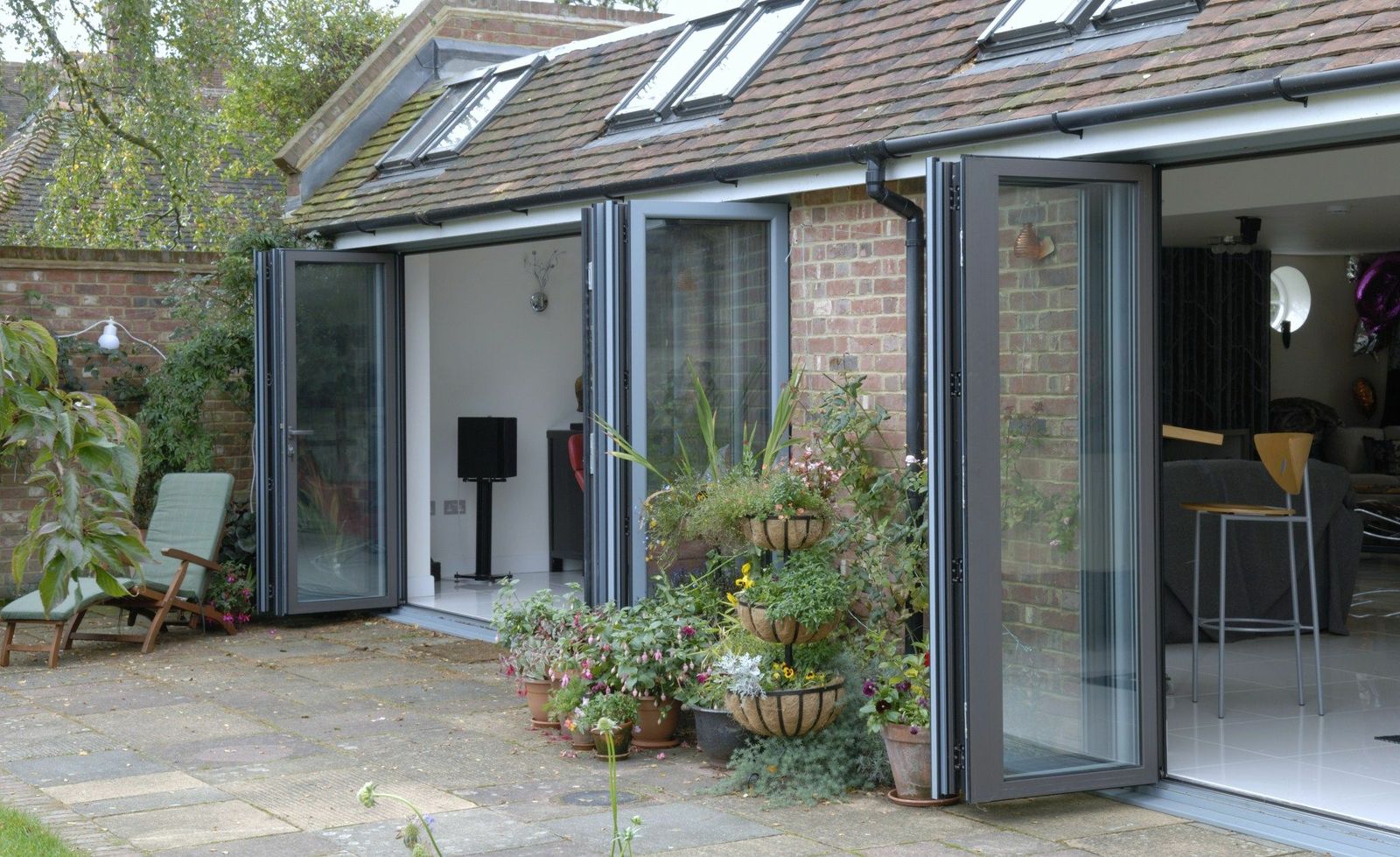 As the name suggests, WarmCore concertina doors excel in thermal performance, and offer outstanding energy efficiency for your Surrey home.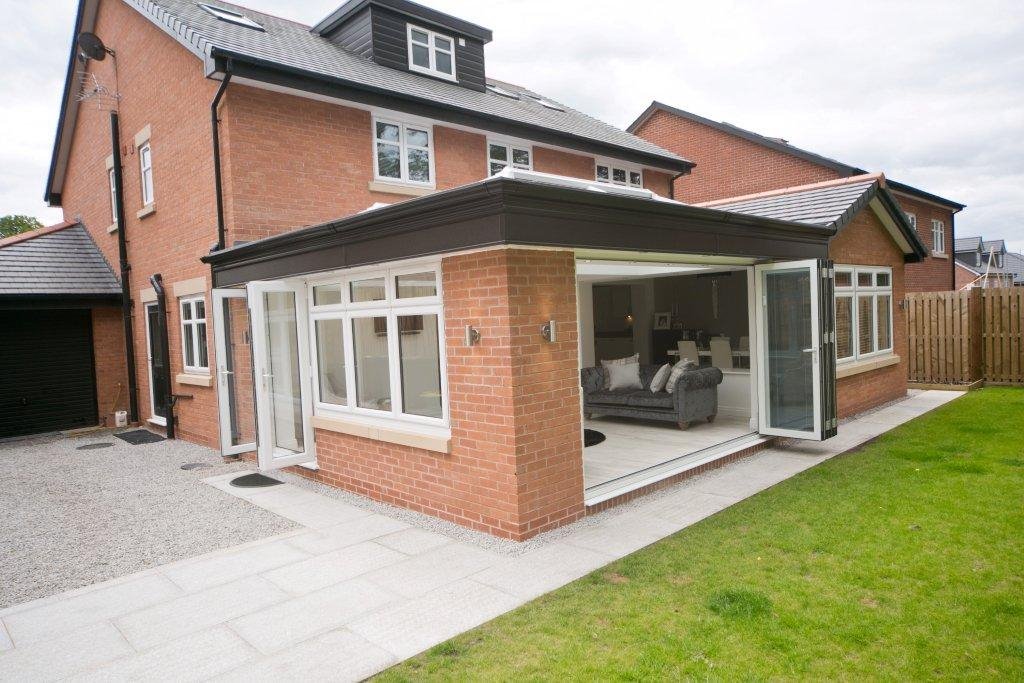 Concertina doors for your Surrey home don't just have to be aluminium, we also install uPVC bi-fold doors. uPVC is a great alternative, offering a great style for your home combined with fantastic energy efficiency.
Our uPVC concertina doors are crafted using the latest innovations in double glazing by Liniar. The Liniar bi-folding door design is exceptional and comes with an exclusive multi-chambered profile that takes energy efficiency to a whole new level.
They are also reinforced to ensure a super strong profile which provides brilliant security. Each uPVC concertina door is fitted with high security locking systems too, ensuring your home is completely protected.
Our uPVC doors come in a range of configurations and can be constructed from 2 to 7 panels, enabling them to enhance any space. They can even be tailored with colour finishes and woodgrain foils, giving them a stylish look to complement your Surrey home.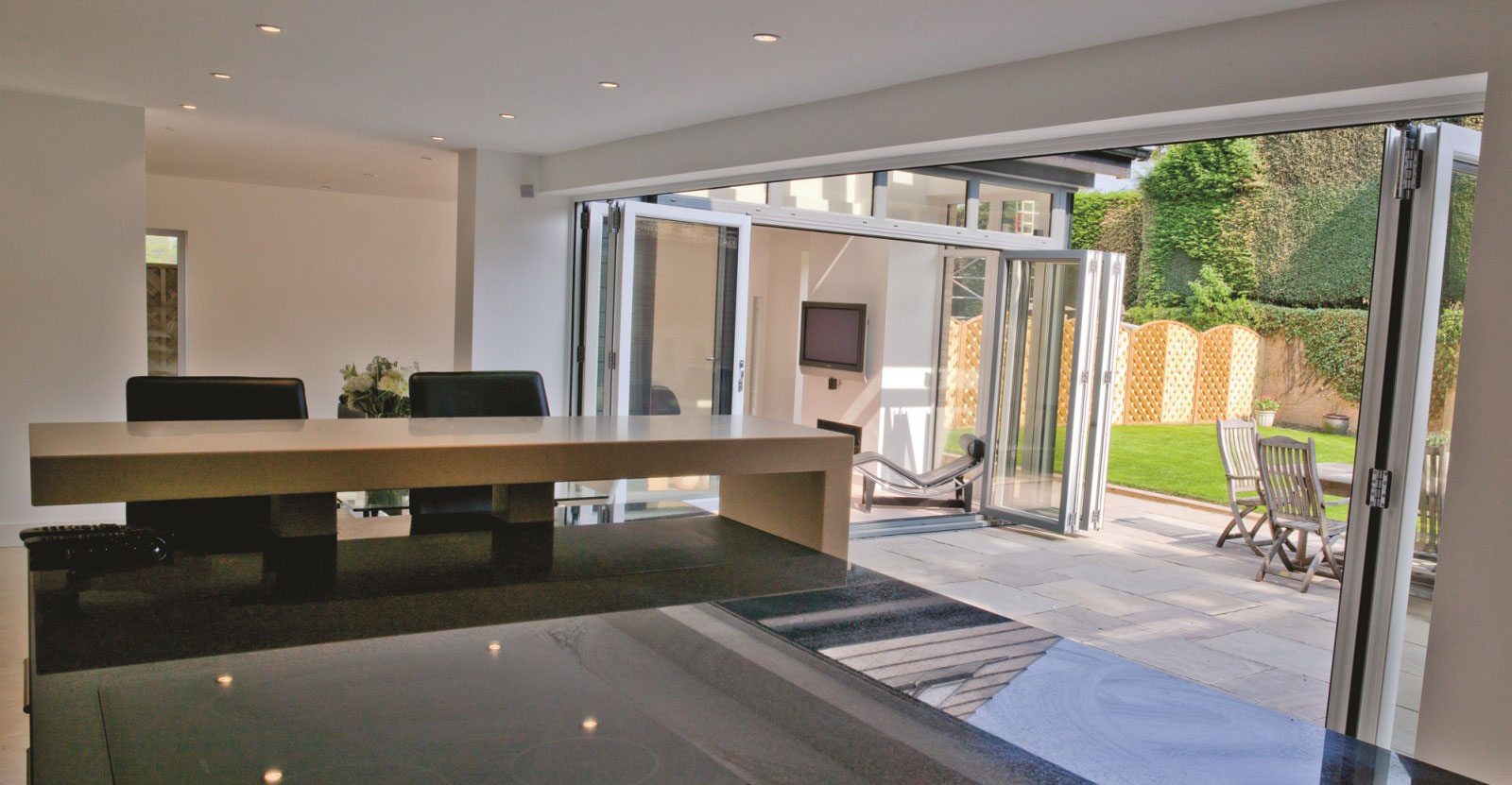 Concertina Door Prices Surrey
Why not get in touch and talk to us about what you want from your concertina doors in Surrey? We have a friendly team on hand who are folding door specialists and will give you expert advice and guidance to ensure that you get the perfect concertina door to meet your requirements.
We are ready and waiting to help you, so contact us now!